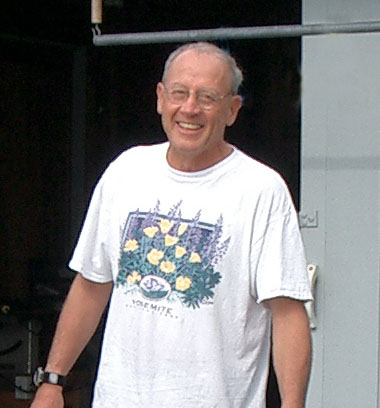 I started doing photography in 1969 when I took a European discharge from the US Army and drove an old Volkswagen van across Europe and North Africa. One of my first pictures was of an impoverished people on a train station in Yugoslavia and is still a favorite. I remember thinking "there's a picture" and rushing to get my camera (Pentax Spotmatic) out and set up to capture the moment as my train was pulling away.

I didn't shoot seriously until I started Scuba Diving in 1978 at which time I put my Spotmatic in Ikelite housing. Eight years later I was introduced to the desert by a friend and started shooting landscape photography. You won't find people or man-made objects in many of my pictures although the one above is one of my favorites. I shoot to record the earth without its inhabitants and without any signs of civilization. I now spend a lot of time shooting underwater on the Kona Coast of Hawaii and have begun to shoot landscapes on the Big Island.
I make yearly trips to the mainland for a week or so to shoot some of the parks.
For many years, until very recently, I shot film. For 35mm I shot Nikons with Nikon and off-brand lenses although I don't feel that camera and lens manufacturer are that important. I also shot pretty much the complete line of Pentax 6x7. Since 2001, I have switched to digital. Initially with a Sony Mavica FD88, then Minolta D7, then Fuji S1, and now Sigma SD9/10. As far as editing goes, most of my work is limited to sharpening, adjusting brightness/contrast and cropping. My feeling is that if a picture needs a lot of work, it is not a good picture.

I have taken well over 20,000 pictures in the last 20 years. And yet I have vivid recollections of most of my favorites - racing across the sand dunes to beat the sun; timing a wave; waiting for the best moment in a sunrise; or trying to get into the right position to shoot an underwater scene. Recognizing a potential picture, positioning the camera, and composing these shots are deeply ingrained in my memory and I relive them every time I see the picture. I would imagine that other photographers have the same memories.

I hope you enjoy the images. Please feel free to <a href=mailto:rickdecker@hawaii.rr.com>Email Me</a>. If you would like to see some great underwater photography of Hawaii and the Kona Coast, check out the web site of the <a href=http://www.kups.org>Kona Underwater Photographic Society (KUPS)</a>. Or, for general photography, see the site of the <a href=http://www.konacameraclub.com>Kona Camera Club</a>. My Sigma SD9/SD10 shots are at: <a href=http://www.pbase.com/rickdecker>My Personal PBASE Site</a> and <a href=http://www.pbase.com/sigmasd9/rick_decker>My Sigma Users Group Postings</a>.