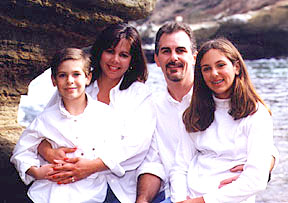 I live in San Diego, California, and have been in love with the ocean for as long as I can remember. I learned to scuba dive at age 15, and have spent many years exploring the rocks, reefs and sand flats in the cool waters offshore. My wife, Tammy, prefers diving in warm, clear and calm waters. Our children, Patrick (14) and Kelsey (15), both share our love of the ocean, and have snorkeled with turtles in Hawaii and sharks in California. They cannot wait to learn to dive so they can see the critters up close.
One of my biggest frustrations was my inability to convey, to friends and family who don't dive, my experiences while under water -- especially the beautiful and unusual sights below the surface. That changed when one of my friends lent me his underwater camera. I enjoyed it so much, I bought an inexpensive used Ikelite housing (which was made for an unknown camera), stuffed my Canon AE-1 into it, bent a few control rods to make it work, got the cheapest strobe I could find, and was off to Cozumel. Some of the first shots I took include the brittle star, the spotted moray and the juvenile octopus.
These days, I use a Nikon 8008s in a Subal housing. My workhorse lens is Nikon's 60mm macro, which is great for small to mid-sized fish and most macro subjects. For more wary subjects, such as zebra gobies and blennies, the 105mm macro allows tight shots while keeping a bit more distance. Adding a +2 diopter allows even greater magnification -- although at a cost of depth-of-field, and lately I've been experimenting with extension tubes for higher magnification. A 20mm wide-angle works best for kelp and reef scenics and large animals, like Mola mola and Sea Lions. For strobes, I use a Sea and Sea YS-60 and a Sonic Research SR2000. There is nothing better to mount strobes on than TLC strobe arms, which are infinitely -- and easily -- adjustable underwater. For film, I use Fuji Velvia or Kodak E-100VS for macro shots -- Velvia's color is a bit more saturated, but comes at a price -- less depth of field, as it's a slower film. For wide-angle, I prefer Kodak E-100 VS.
I also belong to the San Diego Underwater Photographic Society, an organization whose members range from beginners to some of the most experienced professional underwater photographers in the world. Membership in this great group has allowed me the opportunity to not only grow as a photographer -- benefitting from the years of experience among the other members -- but to make many new friends and dive buddies as well.
Dive operators of choice are Horizon Charters out of San Diego, which has provided many memorable dives at San Clemente, Santa Catalina and Santa Barbara Islands, and Truth Aquatics out of Santa Barbara, which goes to the northern Channel Islands, including San Miguel, Santa Rosa, Santa Cruz and Anacapa. Both outfits are first-class, and never fail to find excellent diving, regardless of the conditions.
Of course,I'd be remiss if I didn't mention my father's boat, the Good Question,which has been the platform for several great trips, both locally and out to San Clemente and Catalina Islands.
Much of the Scientific information within this website comes from Coastal Fish Identification; California to Alaska, by Paul Humann, 1996; Pacific Coast Nudibranchs, 2nd Ed., by David W. Behrens, 1991; and the Guide to Marine Invertebrates; Alaska to Baja California,by Daniel W. Gotshall, 1994. These books provide an invaluable wealth of information on the many critters found beneath the waves off our coast.

| | |
| --- | --- |
| I hope you enjoy viewing my photos as much as I enjoy creating them. | |